Why Do My Brakes Squeak?
---

---
You lead an exciting life. From camping trips to grocery runs, your vehicle gets you where you need to go. After a fun adventure around Auburn, Worcester, and Southbridge, MA, it's time to head home. If you start to hear any noises coming from your brakes as you drive home, you might be thinking, "Why do my brakes squeak?"
Here at Ira Ford Auburn, we can tell you! Our technicians are trained to diagnose and fix any service issues. To find out more, read on.
---
​
What Does the Squeaking Noise Mean?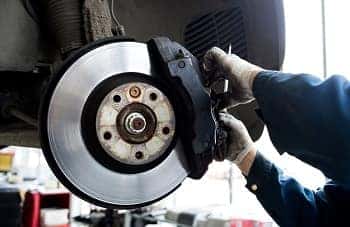 Whether you have a new driver behind the wheel or a seasoned pro, chances are your brakes get a lot of action. So, what does it mean when they start to squeak? Well, you may be surprised to know that this noise is meant to occur.
That is, your brake pads are built to produce this noise when it's time for a replacement. How? Well, the squeaking noise actually comes from a small metallic strip in your brake pads rubbing against the rotor. When your brakes are new, the metal piece is covered. It only touches the rotor once your brake pads wear down.
How Often Is Brake Service Needed?
You might be wondering how often you should have your Ford's brakes looked at. Whether you're stopping and going through rush hour traffic or slowing down before turning into your driveway, brakes are one of the most important parts of your vehicle. They're the part that brings you to a stop.
It's not fun when they start to make noises, but if you keep up with routine maintenance, we can spot any signs before this becomes an issue.
In general, the recommendation is to have a brake inspection every 20,000 to 30,000 miles. However, the lifespan of your brakes can vary depending on a number of factors. For instance, your driving style and the type of brakes you have will influence how fast they wear down.
We can easily perform a small check-up on your brake system when you bring your Ford in for other routine maintenance, such as oil changes or tire rotations.
Other Signs Your Brakes Need Service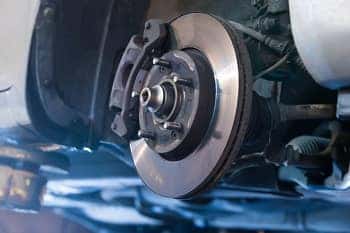 So, we already know what it means when your brakes make a squeaking noise. What about other noises and issues?
There are a few other signs to look out for. For one, your car may have a brake light that will come on when your brakes need service. In addition, you may notice your brake peda vibrating or bouncing when you hit the brakes. This can signify warper rotors or tires that need to be realigned.
In addition, if you have to push harder than normal to brake, there's a chance your brake fluid is low or your brake lines need to be looked at. No matter what, you can count on our Ford service technicians to find out what's going on and get you back on the road safely.
---
Schedule Brake Service Today!
If you've been wondering why your brakes squeak, we're glad you found our guide. To get your brakes repaired, schedule an appointment at our service center today. We're dedicated to making sure your drives around Auburn, Worcester, and Southbridge, MA, are as safe as possible.
Contact us to get started and we'll see you soon at Ira Ford Auburn.
---